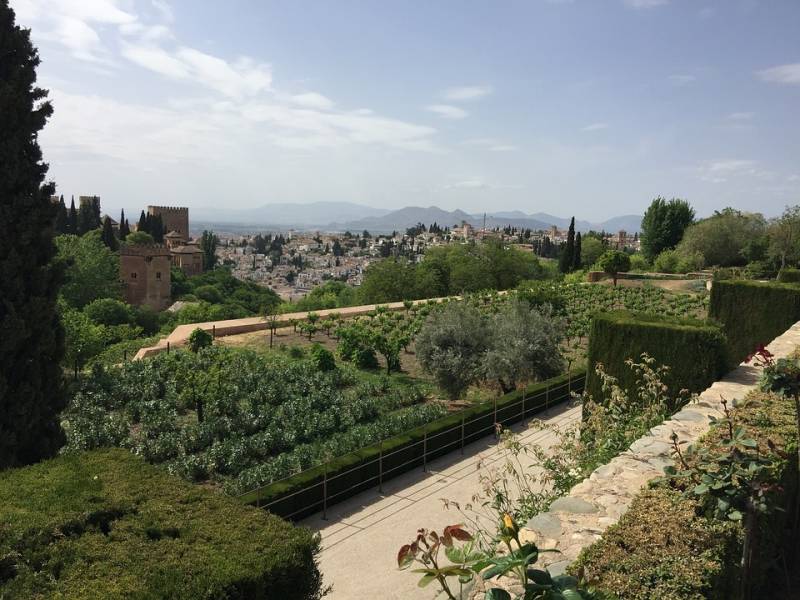 04-03-2018 Events Alhambra
Situado fuera del recinto amurallado de la Alhambra encontramos el Generalife y sus hermosos jardines
Located outside the walled enclosure of the Alhambra, the Yannat al-Arif or "architect's garden" sits on the slope of the Sun hill separated from the Alhambra by a moat, the current slope of the Chinese or the slope of the King Chico. The Generalife is a set of medieval vegetable gardens, gardens, ditches and an almunia or country house used by the Nasrid sultans as a place of rest. The orchards and even the palace is perfectly adapted to the terrain, all on different levels. The whole was conceived as a rustic estate, accompanied by orchards that are still cultivated in a traditional way and that in medieval times supplied the court. In our guided tour we will get to know this place which is independent of the Alhambra, but very close to it.
| | |
| --- | --- |
| | |
Entering the Generalife we ​​can enjoy one of the most beautiful views of the Albaicín that our visit guided tour of the Alhambra offers us, with the walls of the Alhambra to the left and with the medieval vegetable gardens at our feet. Pomegranate trees, fig trees, olive trees, persimmons, almonds, beans, eggplants, artichokes, basil, oregano, mint, thyme, cumin ... are still found in the gardens of the Generalife.
In 1930 the so-called new gardens were projected serving as a connection between the gardens and the palace. Before entering the gardens, we will be surprised by a modern open-air theater, which has been the headquarters since 1952 of the International Festival of Music and Dance of Granada. Our visit includes the entrance that will allow us to get into and know the Palace of the Generalife, called the Royal House of Happiness by the vizier Ibn-al Yayab. Again, the model of the Hispano-Muslim house is repeated, where the patio is the axis of the house.
| | |
| --- | --- |
| | |
Although the Patio de los Leones (Lion´s Courtyard) is the most emblematic of the Alhambra, the Patio de la Acequia (Ditch Courtyard) del Generalife is also a symbol of the monumental complex. It is in this palace where Washington Irving, in his tales of the Alhambra, tells us that Prince Ahmed al Kamel lived (the perfect one) or the pilgrim of love. A prince who had lived since his childhood here, in paradise, but sad because he was unhappy not knowing why. Until he discovered that he lacked the most important thing, LOVE.
We will continue, after the royal hall, through the Sultana´s courtyard to get to the highest part of the enclosure where the water staircase or the romantic dweller is.